Seac Sub Screen dykdator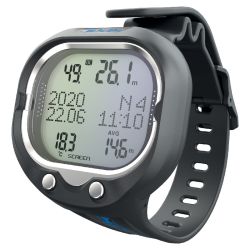 EAC Screen is the dive computer that aims to ease the reading all the dive profile data.

The large display shows all the main information in one view, with clearly readable and distinct characters. Contrast and brightness can be adjusted, as well as the light mode (automatic or manual) and the backlight time (from 2 sec to 60 sec).The display measures 4 x 4.7cm and is protected by a sturdy rubber housing. Total dimensions of the dial is 6.7 x 7cm.

The long strap is designed to comfortably wear the SEAC Screen even over a dry suit. Total length, from the buckle to the opposite end: is 36 cm.

The two well-defined front buttons let allow the SEAC Screen to be managed quickly and easily even with very thick gloves.

SEAC Screen operates in 3 main modes: Scuba, Gauge and Freedive.In Scuba mode, the dive profile is completely managed according to the Bühlmann ZHL-16C decompression algorithm. It supports the management of 1 or 2 mixes (air, Nitrox and other mixes with O2 up to 99%), notifying the user at the most suitable time to change the mix. It has sound alarms and warning lights in case of violation of the decompression stop, excessive ascent speed and exceeding the maximum depth allowed for all mixes in use.In Gauge mode, the SEAC Screen computer displays depth gauge and stopwatch for fully independent dive management for more experienced divers.In Freedive mode, freedivers can view surface intervals and dive times, current depth and maximum depth reached during the session.

The SEAC Screen dive planner allows you to simulate and plan a dive by displaying the NDL time based on a set depth and other data input (mixture, maximum PpO2, caution level).

The Logbook records up to 40 hours of diving in Scuba/Gauge mode or 18 hours in Freedive mode.

Downloadable data via USB (sold separately). Firmware update and SEAC Dive Manager software are available online (free download at Seacsub.com).

SEAC Screen works with a CR2450 battery and is not rechargeable. It can be replaced by the user but it is still recommended to contact an authorized SEAC center to change the battery and cover o-ring.

Additional info: maximum depth 100 meters, calculation of NoFly and Desaturation times, maximum allowed altitude warning, fresh or salt water selection.

Scuba: Bühlmann ZHL-16C algorithm,  supports the management of 1 or 2 mixes (air, Nitrox and other mixes with O2 up to 99%)


Scuba mode - Freediving - Gauge
Scuba: Bühlmann ZHL-16C algorithm,  supports the management of 1 or 2 mixes (air, Nitrox and other mixes with O2 up to 99%)
Freedive: freedivers can view surface intervals and dive times, current depth and maximum depth reached during the session
Gauge: displays depth gauge and stopwatch for fully independent dive management for more experienced divers.
Backlight
Contrast and brightness can be adjusted, as well as the light mode (automatic or manual) and the backlight time (from 2 sec to 60 sec).
Battery
SEAC Screen works with a CR2450 battery and is not rechargeable. It can be replaced by the user but it is still recommended to contact an authorized SEAC center
LCD screen
The large display shows all the main information in one view, with clearly readable and distinct characters.
The display measures 4 x 4.7cm and is protected by a sturdy rubber housing.
Video:
https://youtu.be/D9MnBVUH1NQ